Buy 2+ prints, get 20% off
Use code: PRINTSALE for 20% off 2 or more prints.
Be sure to enter code at checkout and have more than one print in your cart. Applies to postcard prints as well!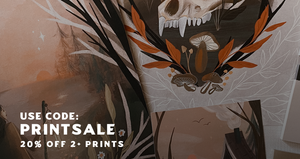 Monthly happy mail through Patreon
THREE tiers are now available on my Patreon: a support tier with exclusive voting power, access to the community, and first dibs on one of a kind items.
The other two tiers are for happy-mail enthusiasts: Featuring brand-new art created monthly - chosen by you!
Follow along for first dibs, discounts, behind the scenes, freebies, voting power, and more! Check out the Patreon for more info.
Join Us on Patreon